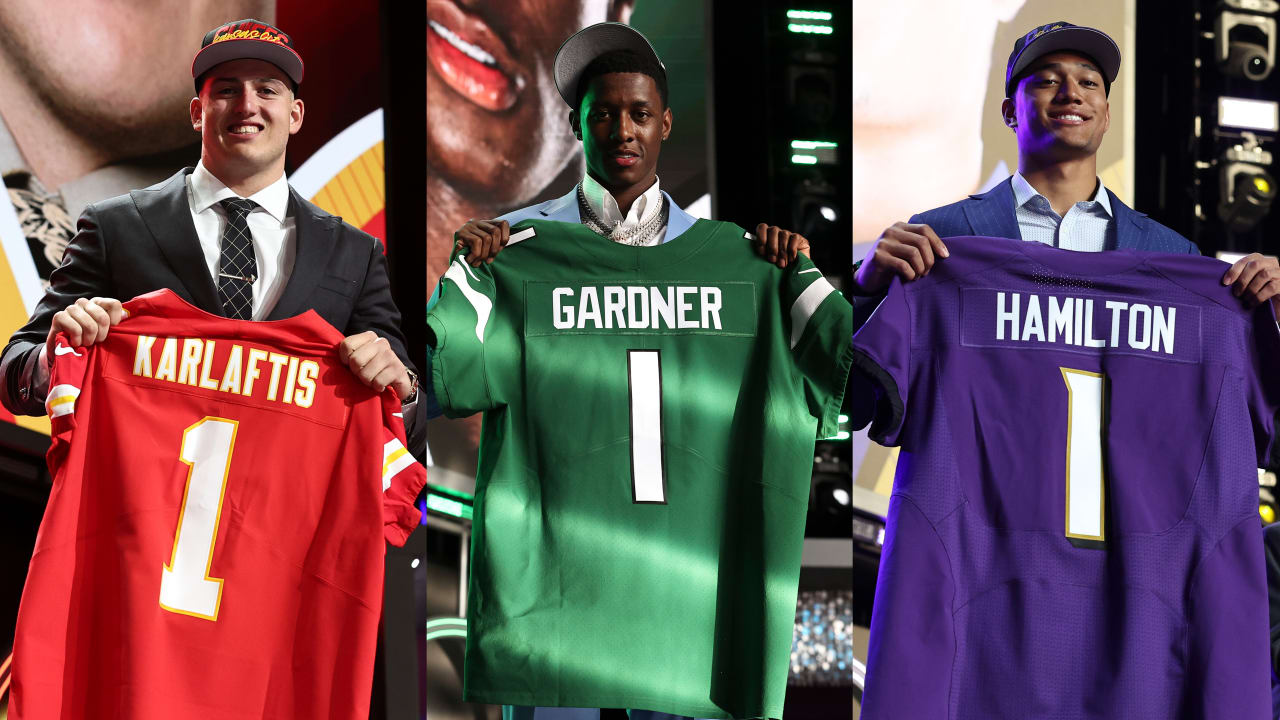 Round 1: (No. 11) Chris Olave, WR, Ohio State; (19) Trevor Penning, OT, Northern Iowa
Round 2: (49) Alontae Taylor, CB, Tennessee
Round 5: (161) D'Marco Jackson, LB, Appalachian State
Round 6: (194) Jordan Jackson, DT, Air Force
FILICE: One thing is clear in New Orleans: The Saints genuinely believe they're competitors. Despite losing franchise faces Drew Brees and Sean Payton over the last couple years, nobody's talking about rebuilding or restarting or even retooling. The "re-" prefix has no place in NOLA! This franchise just forges forward like it's operating in a championship window, with last year's playoff absence attributed to a ravenous injury bug. Right or wrong, it's admirable. But is it wise? Mickey Loomis continues to draft with the urgency of a general manager whose roster is just a piece or two away, as opposed to stockpiling a nice core of young, cheap talent to build around. He grows fond of certain prospects, and then seemingly does whatever it takes to GO GET 'EM! Four years ago, the Saints gave up two first-round picks and a fifth-rounder to move up 13 spots and grab raw edge rusher Marcus Davenport. While Davenport's developed into a solid QB hunter when healthy, he's missed at least three games due to injury in all four of his pro campaigns, sitting out 11 total games over the past two years. Not sure the aggressive 2018 trade-up has worked as planned. But I digress — let's get back to this year. Re-signing Jameis Winston and bringing aboard Andy Dalton signaled that New Orleans was out on the draft QBs. So in the wake of the free agency frenzy, the Saints had two glaring needs above all others: wide receiver and left tackle. In early April, New Orleans made a trade with Philadelphia that gave the Saints two top-20 picks. Then on draft night, after receivers started coming off the board, Loomis vaulted from Pick No. 16 to No. 11 to snag Olave, the Ohio State wideout the Saints had been connected with throughout the pre-draft process. At Pick No. 19, they plucked Penning to replace Terron Armstead on the blind side. Two picks in, Loomis had filled the team's two biggest needs, but at what cost? Here's the tally:
TOTAL DRAFT CURRENCY TRADED TO ACQUIRE OLAVE AND PENNING
2022 picks:
Round 1, No. 16 overall
Round 1, No. 18
Round 3, No. 98
Round 3, No. 101
Round 4, No. 120
Round 7, No. 237
2023 pick:
2024 pick:
That's pretty steep for two non-quarterbacks. (Well, OK, three non-quarterbacks, including DT Jordan Jackson, who was acquired via an extra sixth-rounder netted in the Philly trade.) It could work out in New Orleans' favor, but Loomis just continues to leave himself little margin for error.