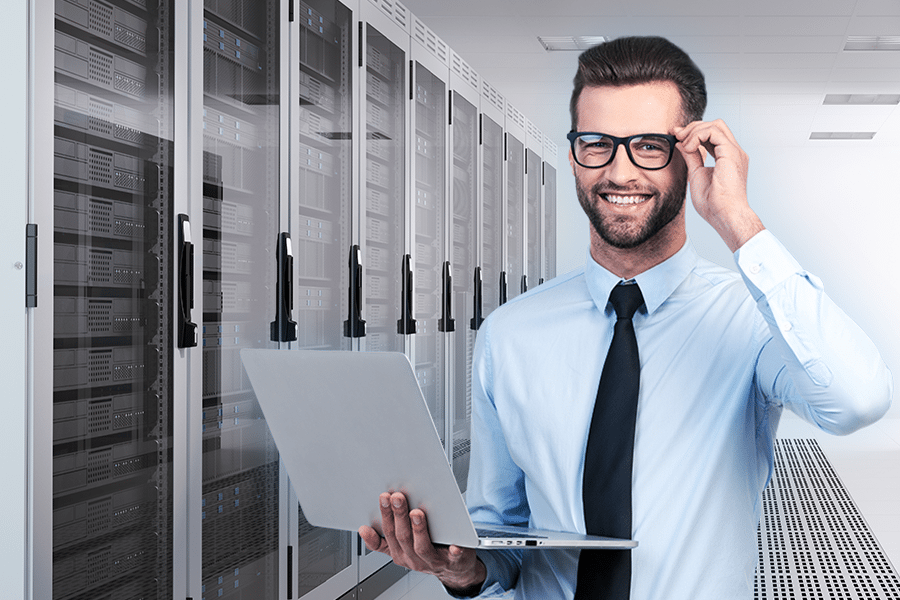 If your small business doesn't have IT support on staff, you can use Geek Squad for help with software installation, computer setup and repair, and other tech support issues. Run by Best Buy, Geek Squad pricing for individual services costs $19.99 to $1450, while monthly service plans start at $24.99 per user. Each user can have multiple devices. There's also a simpler annual plan for very small businesses that runs $199.99 per year for six devices.
Visit Geek Squad
Per-Service vs Monthly Plan Pricing and How to Choose
Geek Squad charges $300 per on-site service visit for business locations, but if it's a one-time need, you may be able to order individual services from the homeowner menu or take your device into the store instead.
Monthly plans incur a setup fee of $99.99 and a monthly fee of $24.99 or $49.99 per user, depending on the plan you choose. Since it's a subscription, you pay this fee even if you don't use the service that month, but it can save you money if you have a big problem or need frequent IT support. Geek Squad's business service pricing is not easy to find online, so we recommend reaching out to customer support and asking questions based on your business needs.
Geek Squad In-Store Services
Geek Squad offers in-store services that can be booked online through the Best Buy website. You can schedule a repair, tuneup, troubleshooting, or consultation. Once you have an appointment time, you can go in the store and drop off your device for repair or meet for your consultation/troubleshooting. You also can stop into Geek Squad without a reservation, but it's not recommended as you may experience long wait times.
In-Store Service Pricing
Geek Squad In-Home Services
Geek Squad has in-home services pricing but also charges businesses a $300 minimum per on-site visit. Prices may increase depending on the work needed. But, if you work from home, it's more cost-effective to use the "in-home" service depending on the repair need. To use the in-home service, you can call your local Best Buy or schedule the service online. When you schedule online, you pay at the time of scheduling. Keep in mind, many of the diagnostic and repair services can be accomplished remotely for a cheaper price, so consider that option first depending on the repair/service you need.
In-Home Services Pricing
Geek Squad Business Services and On-Site Pricing
For businesses, on-site visits start at $300 per visit, and the price may increase from there, depending on the work needed. This is an ideal service for locations that need ongoing IT support. You can call your assigned business adviser book service appointments. They can provide remote and on-site services. Some of the services Geek Squad can provide businesses include:
Network Installation
Add a Device to an Existing Network
Software Installation/Service
Hardware Installation/Service
Data Backup/Transfer (up to 1TB between two devices)
Network Added Storage Configuration
OS Installation
Device Diagnostics and Repair
PC Setup and Configuration
VPN Installation
Geek Squad Remote Services
Not every problem requires the physical presence of a Geek Squad agent. Many times, with your permission, they can access your computer remotely to accomplish tasks or walk you through the physical actions of setups while handling the software side. This is usually the faster and cheaper route. Remote services include:
Remote Services Pricing
Geek Squad TotalTech Plan – Another Option for Small Business
Best Buy TotalTech Support is promoted for homes but can be purchased for small businesses as well dependent on IT needs. It costs $199.99 per year for six devices. A device could be a computer, a printer, or an A/V setup, for example. The plan includes:
Unlimited support on all tech and appliances
Virus removal and anti-virus setup
Remote PC tuneup
Remote services, including software troubleshooting and repair, software installs, diagnostics, and data transfers and backup
In-store support for software installs, tablet setups, and car electronics
24/7 online support
$49.99 for standard on-site services like home Wi-Fi setup, or services that could be done remotely
20% off repairs and advanced services
20% off Geek Squad Protection and AppleCare products, including 5-year warranties on products
Monthly Plans Pricing and Service Inclusions
Geek Squad has two monthly office plans. Both plans require a setup fee of $99.99 and can be purchased in monthly, six-month, or 12-month packages.
Monthly Plan Is Optimal For
Busy offices that don't have an IT expert or department may find a monthly plan worth the price. Monthly plans get you more than on-call help; Geek Squad also provides tuneups and network support.
If you have IT needs that are recurring but not regular, then Geek Squad might be a more cost-effective option than hiring a full-time employee. Instead, you'll have a team at your call.
How To Choose Which Geek Squad Service Is Right for You
Per-Service Pricing
If you are a very small operation and have the patience, time, and skill for everyday computer tasks, you may find it more cost-effective to pay the higher per-service fees on the few occasions you need more expert help such as for repairs or more difficult problems.
In-Store vs On-Site vs Remote Services
Remote Services: This is your least expensive and easiest option. It's best for tasks that can be done remotely such as troubleshooting, software installation, antivirus protection, or problems with a program. It might also work for simple things like printer connectivity, where the technician can walk you through the process of physical as well as software troubleshooting. Remote support is also good for scheduled software maintenance like updates and security sweeps.
In-Store Services: If your hardware is portable and needs physical repair—such as a laptop with a damaged screen—this is your best choice. Also, consider it when the problem is too complex for remote troubleshooting, or you've already done a good effort of troubleshooting yourself.
On-Site Services: On-site repairs are best when multiple devices are involved when it involves a large device like a server or copier, or when you don't have the time or manpower to spare. It's the most expensive option, but may in the long run save you time, especially if they can fix the problem without having to send the device out for repairs.
Who Should Consider Geek Squad?
Geek Squad works with businesses of all sizes, from small, local companies, to large corporations. Voip.com uses it for their customer support, and the Sheraton hired them to install new televisions in all its hotels, so it can handle huge projects as well as single repairs for a small business.
Who May Not Need Geek Squad?
If your technical needs are small, you have an IT team, or you are a small business with a tech-savvy employee or employees, then Geek Squad may not be your best answer. In the few cases when you cannot solve an issue on your own, you may find a local computer repair shop quicker and more cost-effective. Also, check out our list of top Geek Squad alternatives below.
Geek Squad Top Alternatives
Geek Squad is not the only business IT support service out there. Here are several reputable services that also provide remote and on-site computer support. Several are franchises or independent technicians, so read reviews of your local store when considering them.
Bottom Line
Geek Squad is a nationally recognized name for home IT, but it can handle businesses of all sizes too. The TotalTech support plan works for very small businesses and runs $199.99 per year. It offers setup, training, and diagnostic services, plus discounts on more costly repairs. If your needs are greater, you can purchase monthly business plans as well. You can also get on-site visits or purchase from an a la carte menu of services. Contact Geek Squad to learn more.
Visit Geek Squad